Augusta Tech Announces New College Board of Directors Chair and Vice Chair
New officers selected will being their terms July 1, 2022.
---
Augusta Technical College Hosts Second Annual Mid-Year Economic Outlook Event with The Federal Reserve Bank of Atlanta
---
New officers selected will begin their terms July 1, 2022.
Augusta, GA -June 27, 2022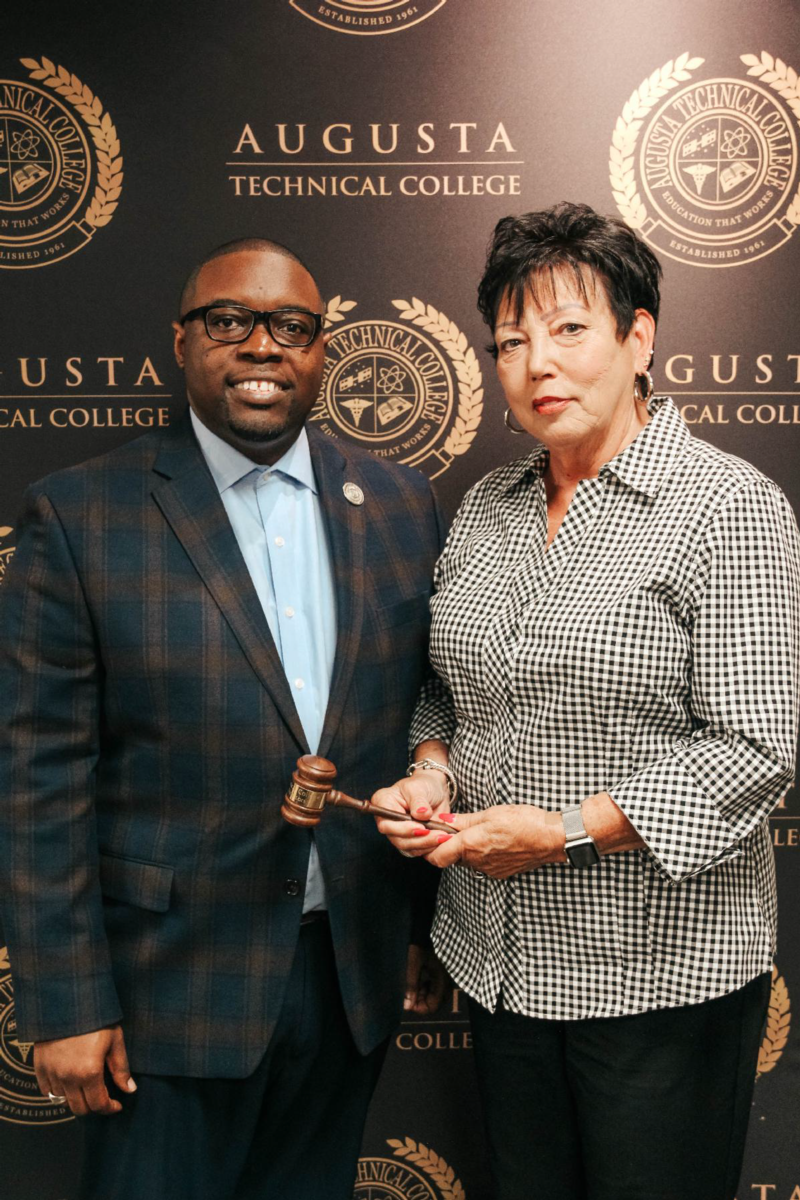 Augusta Technical College is pleased to announce the appointment of Ms. Pat Goodwin as the 20222024 incoming College Board of Directors Chair.
Ms. Goodwin is an active licensed realtor at Blanchard and Calhoun Real Estate Company. She has served and led numerous nonprofit boards/committees and has been active in supporting both regional and state efforts to help make our area a great place to live, work and play.
Ms. Goodwin resides in Columbia County and has a degree in Business Administration from Mercer University. Her career has spanned over 29 years working at Southern Company Services and 13 years at the Medical College of Georgia. She has served as Chair of the Ronald McDonald of Augusta, Leadership Augusta and Columbia County, Development Authority of Columbia County, chair of the Columbia County Convention and Visitors Bureau and is currently serving on the Board of Directors of the Columbia County Chamber and is also an active member of the chamber Government Affairs Committee. She received the chamber Volunteer of the Year Award (2008) and Leadership Award (2012).
Mr. Darnell Nicholas, a Business Unit Leader at John Deere, will serve as the 2022-2024 incoming Vice Chair.
Mr. Nicholas is a US Military Academy (West Point) graduate with a degree in systems engineering. He served in the military as a battalion intelligence officer, military intelligence detachment commander, brigade counterintelligence officer and a troop commander. After his military service he began employment with John Deere where he currently serves as a business unit leader at their Grovetown, GA facility.
"This is an exciting time for the institution, and we have two stellar leaders selected by their peers to lead us into the future," stated College President Dr. Jermaine Whirl. "I'm excited to work with Ms. Goodwin, Mr. Nicholas, and all of our board of directors to move the institution forward.
Members of the Augusta Technical College local board of directors are nominated for their positions by area industry and educational officials and approved by the State Board of the Technical College System of Georgia. The Board of Directors meets monthly to interpret the State Board policies and provide supplemental policies to ensure that the needs of the Central Savannah River Area (CSRA) are met. Responsibilities include reviewing and approving goals and objectives, short-range and long-range plans, facilities expansion, program additions and changes, and the annual budget before submission for approval by the State Board.
The Augusta Technical College Board of Directors consists of 10 members serving the college's five-county service area.
###
---
About Augusta Technical College
Augusta Technical College, a unit of the Technical College System of Georgia, is a public postsecondary institution that provides academic and technical education, customized business and industry training, continuing education, student support, economic development, and adult education services to its service area (Burke, Columbia, Lincoln, McDuffie, and Richmond Counties) at a competitive financial value. Associate of Science Degrees, Associate of Applied Science Degrees, diplomas, and technical certificates of credit are provided through traditional and distance delivery methods. For more information, visit augustatech.edu.
---