Augusta Technical College – CA has completed 20 years of active participation and service in the Cisco Networking Academy program. We would like to thank your academy for the dedication and contributions that help make Cisco Networking Academy the premier global education program for developing global problem solvers.
---
WAGT (NBC) - Augusta, GA
NBC 26 News at 7
---
WJBF
News Channel 6
Georgia Cyber Center set to open July 10
---
Shout out and special thanks to Connor Threlkeld, Darion Mann, Derahn Thornton, Derrick Austin, Jerome Culbreath, Maliyah Scott, Mitchell Gibson and Thomas Cole for their participation in the 2018 Spring Season of the National Cyber League. Additional thanks to Connor Threlkeld, Derahn Thornton, Derrick Austin and Maliyah Scott for also participating in the post season. Ranking in the middle of a pack of over 250 teams, they performed very well given this was the school's first time ever competing on a national stage.
The NCL 2018 Spring Season included 3,350 students/players and 278 faculty/coaches from more than 250 two- and four-year schools in 48 U.S. states. The NCL 2018 Spring Season began with the Preseason round to group players into one of three competition brackets based on skill level: Gold (top 15% of all players nationally - 356 players), Silver (the next 35% of all players nationally - 853 players) or Bronze (the next 50% of all players nationally - 1,243 players). Source: Cyber Skyline. Our group had four ranked in Silver and two in ranked in Bronze.
Building on our experience from the Spring Season, we will also compete in the Fall Season. Below is a timeline for the Fall Season. See Mr. Scott if you have any questions about joining.
---
COME JOIN THE NATIONAL CYBER LEAGUE!!!
Attention!!! Are you interested in seeing what it takes to become a Cybersecurity Professional? Do you want to put what you know, or what you think you know, to the test? The National Cyber League is your opportunity to do just that. Register here. The Registration Process is easy to understand. HURRY!!! Early registration ends March 25. Late registration ends March 28.
After registering for the season, navigate to the link below then click the "Join" button to add Dederick Scott as your coach:
https://ncl.cyberskyline.com/user/organization?client=58ee7535f9a1f81c903a696c&invite=8MR3-XDQK-MNQJ
Please contact Dederick Scott if you have any questions or would like to know how to get your fees reimbursed.
For more information: National Cyber League
Thank you for your participation in the National Cyber League 2018 Spring Season!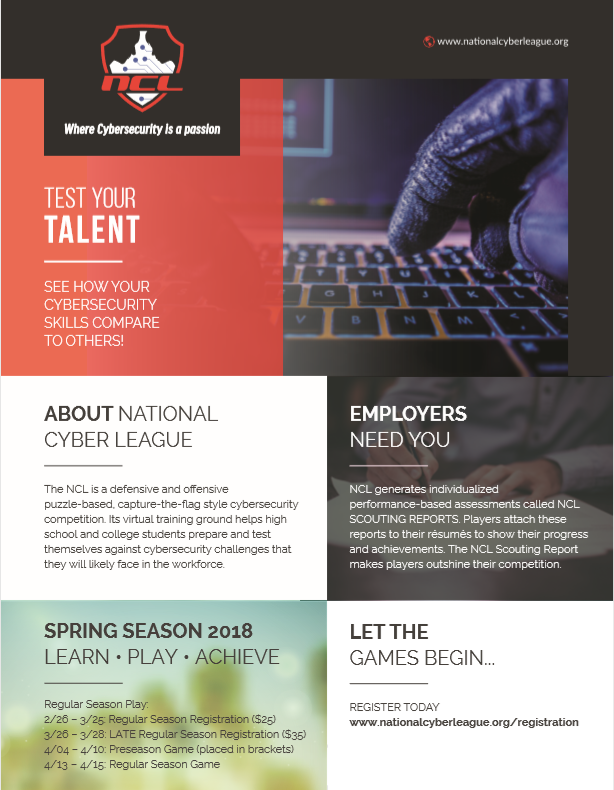 ---